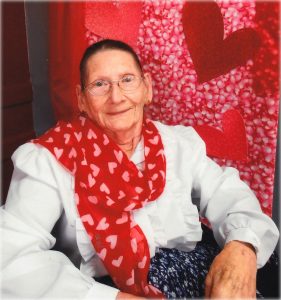 Goldie (Powell) Dawson Davenport was born the daughter of Ocal Powell and Leta Rutledge Powell on April 8, 1927, in Oregon County Missouri, and died April 7, 2017, in Thayer, Missouri at the age of 89 years.
She was united in marriage on January 18, 1946, in Salem, Arkansas, to Marvin Dawson, who preceded her in death on March 1, 1976. She was united in marriage on February 14, 1981, in Mammoth Spring, Arkansas to George Davenport, who preceded her in death on June 8, 2008.
She is survived by four children, Glenda Sue Todd and husband, Junior, of Mammoth Spring, Arkansas, Delories Dianne Dodd and husband, Danny of Truman, Arkansas, Floyd Jay Dawson of Harrisburg, Arkansas and Larry Dean Dawson of Thayer, Missouri; fourteen grandchildren; twenty eight great grandchildren; eleven great- great grandchildren; two sisters, Grace Palmer of Thayer, Missouri and Viola Herndon of Houston, Missouri; two sisters-in-law, Shirley (Powell) Torrey of Alton, Missouri and Barbara Powell of Thayer, Missouri; several nieces; nephews; other relatives and friends.
She was preceded in death by her parents; her husbands; one son, Calbert Ray Dawson; one daughter, Emma Lea Dawson; one grandson, James Bruce Gilmer, Jr; two great-great grandchildren; four brothers, Joe, Claude, Clarence and Gilbert Powell.
Goldie was a long time member of the Midway Pentecostal Church. She enjoyed reading, crocheting, sewing, quilting and word search puzzles.
She was deeply devoted to her family and will truly be missed by all that knew her.
Funeral services for Goldie Dawson Davenport will be held, Tuesday, April 11, 2017 at 2:00 PM at the Carter Funeral Home Chapel in Thayer with Brother Anthony Woods officiating.
The family will receive friends on Tuesday, from 1:00 PM until service time.
Burial will be in Thayer Cemetery with services under the direction of Carter Funeral Home, Inc. in Thayer, Missouri.