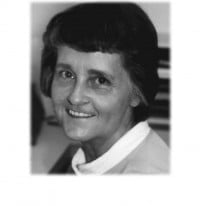 Former West Plains resident Frances Hoots, 86, died June 21, 2011, at the home of her daughter in Glendale, Arizona, following a long illness.
Frances Elizabeth Moore, the daughter of Austin and Lida Moore, was born November 26, 1924, in Carter County, Missouri. She grew up in Van Buren, Missouri and graduated from Van Buren High School in 1942.
In 1944 she married Carl Hoots, and following his discharge from the army, they settled in West Plains, where she lived for the next sixty years.
Mrs. Hoots was a long-time member of the Church of Jesus Christ of Latter Day Saints. She retired from Ozarks Medical Center in 2003 after working twenty-nine years as a medical transcriptionist.
Mrs. Hoots is survived by her three children, Steve Hoots of Springfield, Missouri, Vicki Darr, of Glendale, Arizona and Greg Hoots of Kansas City, Kansas. She is also survived by one sister, Essie Mae DePung, of St. Louis, Missouri, and by six grandchildren, three great grandchildren and numerous nieces and nephews.
She was preceded in death by her parents, her husband, three brothers, and one sister.
Mrs. Hoots was an avid gardener, taking great pride in her flower beds. She was also a prolific quilter, creating quilts herself and with a quilting group in West Plains. She collected many hand-made quilts. She took great pleasure in reading, but found her greatest joy in her family.
A graveside memorial service will be held at 2:00 pm Saturday, July 2, at Homeland Cemetery under the direction of Carter Funeral Home. Those wishing to accompany the funeral procession should arrive at Carter Funeral Home by 1:30 pm.