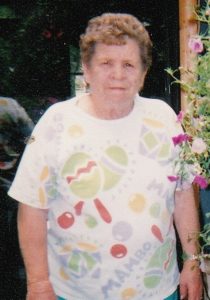 Erma Dean (Jones) Griffin of Lanton, Missouri passed away surrounded with family and friends by her side at Ozarks Medical Center, West Plains on September 8, 2016.
She was born November 24, 1933 in Omaha, Arkansas to Ralph and Georgia Mae Jones.
She was a retired business owner and homemaker. She never met a stranger and welcomed many into her home.
She is preceded in death by her parents; four brothers; two sisters, and two sons, and her late husband, Max Griffin.
She is survived by one son, Richard (Kink) Griffin of the home; one daughter, Teresa Thiemer of West Plains; one granddaughter, Heather Griffin, Branson, Missouri; two grandsons, Adam Beard of West Plains and Stevie Griffin of Salem, Arkansas, and three great grandchildren, Adisyn, Cruz, and Mahlia, all of Branson.
Visitation will be held Sunday, September 11, 201, from 10:00 a.m. to 12:00 noon at Carter Funeral Home Chapel, West Plains.
Graveside services will be held Sunday, September 11, 2016 at 2:00 p.m. at State Line Cemetery, Fulton County, Arkansas, under the direction of Carter Funeral Home, Inc., West Plains.