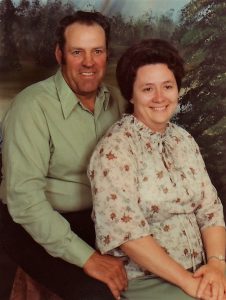 Elvern "Bean" Baldridge was born the son of George Baldridge and Orphia Jones Baldridge on November 7, 1931, in Sharp County, Arkansas and departed this life on August 18, 2018, in Ash Flat, Arkansas, at the age of 86 years.
He was united in marriage on July 31, 1954 in Sharp County, Arkansas, to Rachel Price.
He is survived by his wife, Rachel Baldridge of the home, in Mammoth Spring, Arkansas; four children, Norma Jean Moss and husband, Eddie, of Mammoth Spring, Arkansas, Bonita Vaughn and husband, Leon, of Mammoth Spring, Arkansas, Hubert Baldridge and wife, Cheryl, of Matthews, Missouri, and Wilma Collins and Clay Bratten of Mammoth Spring, Arkansas; two brothers, Lenard Baldridge and wife, Erma Lee, of Mammoth Spring, Arkansas and Omer Lee Baldridge and wife, Patsy, of Wirth, Arkansas; nine grandchildren, several great grandchildren; many nieces, nephews, other relatives and many friends.
He was preceded in death by his parents, George and Orphia Baldridge; one son, Paul Baldridge; two brothers, Ermin Baldridge and Willard Baldridge; three sisters, Roxie Houston, Rhoda Byers and Nola Angotti; and one great grandchild, Addison Raine Baldridge.
As many will remember, Bean was a hard worker. He was a well known farmer in this area and owned and operated a sawmill. He was a retired minister of Midway Pentecostal Holiness Church in Thayer, where he enjoyed singing in the choir. He was an avid outdoorsman who enjoyed hunting, fishing, gardening and visiting with his neighbors and friends. He was a devoted husband, loving and caring father, grandfather, neighbor and a friend to all. He will be missed by his family and the community in which he lived.
Funeral services will be held Tuesday, August 21st at 10:00 AM, at the Carter Funeral Home Chapel in Thayer with Brother Anthony Woods and Brother Charles Barnett officiating.
Visitation will be held on Monday night  from 6-8 PM at the funeral home.
Burial will be in Flint Cemetery, near Mammoth Spring , Arkansas with services under the direction of Carter Funeral Home in Thayer.