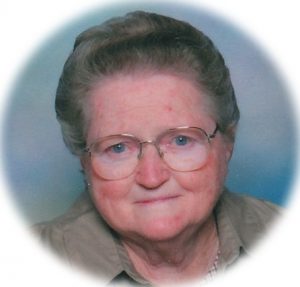 Edna Mae Moore was born the daughter of of Anice Perkins and Maude (Childers) Perkins on November 7, 1933 in Thayer, Missouri, and died August 25, 2016 at the home of her nephew, James Bowers near Thayer, Missouri, at the age of 82 years.
She is survived by several nieces and nephews, and their families, including James and Sharon Bowers and their family, Tim and Kari Bowers and their children, Jarvis and Avery and Daniel and Monica Bowers and their children, Austin, Madison and Abby, all of Thayer, Missouri.
She was preceded in death by her parents, Anice and Maude Perkins; one daughter, Shirley Maxine Jackson; two sisters, Georgia Pohnert and husband, Fred and Edith Bowers and husband, Orville; two nephews, Rob and Johnny Bowers; three nieces, Charlene Bowers, Rose Mary Bowers and Cathy Snyder; and a special cousin, Glen Holloway.
Edna Mae was of the Baptist faith and attended Norman Free Will Baptist Church as long as health permitted.
She was born and raised on the family farm and knew what hard work was, but always found a way to enjoy life. She enjoyed sewing, growing flowers and shooting armadillos. She enjoyed spending time with her family and was given the nicknames of "Speedy " and "Gertie" by Tim and Daniel.
She will truly be missed by her family and many friends.
Funeral Services for Edna Mae Moore, age 82, of Thayer, Missouri, will be held Sunday, August 28, 2016 at 2:00 PM at the Carter Funeral Home Chapel in Thayer, Missouri.
Burial will be in the Childers Cemetery with services under the direction of Carter Funeral Home, Inc. in Thayer
In Lieu of flowers, contributions may be made in her memory to St. Jude Children's Reasearch Hospital in honor of Madison Bowers.