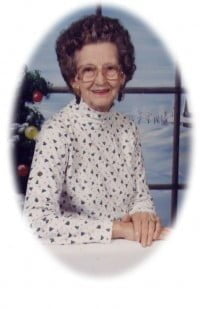 Edith Ora Hurtt was born the daughter of Elmer Stark and Victoria Ivy Stark on August 7, 1925 in Elm Store, Arkansas and departed this life July 26, 2011 in Springfield, Missouri at the age of 85 years.
She was united in marriage February 23, 1949 at Mammoth Spring, Arkansas to Eugene Hurtt who preceded her in death September 26, 1966 .
She is survived by one daughter, Marilyn Kay Patrick of Walnut Grove, Missouri; one granddaughter, Terri Eugena Jones of Duenweg, Missouri; three great grandchildren, Ashely Kay Whiteside, Richmond "Trey" Steel III and Austin Lee Jones; one sister, Lois Stewart and husband, Frank of Kansas City, Missouri; two brothers, Coy Stark and wife, Wanda and Jimmy Stark and wife, Debbie all of Mammoth Spring, Arkansas; two sisters-in-law, Sue Phelps of Cherokee Village, Arkansas and Thelma Stark of Utica, Kansas; other relatives and many friends.
She was preceded in death by her parents, Elmer and Victoria Stark; her husband, Eugene Hurtt and three brothers, Homer, Tom and Troy Stark.
Edith was a member of the Church of Christ at Bona, Missouri. She worked for twenty years as a Nurses Aide in Ash Grove, Missouri.
She was loved by all and will be sadly missed. She spent her life serving others.
Graveside services will be Sunday, August 7, 2011 at 2:30 PM in the Riverside Cemetery at Mammoth Spring with Terry Frizzell officiating.  Burial will be in the Riverside Cemetery.