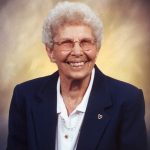 Funeral services for Clara Mae Sears Wilcox, 97, Springfield, Mo., were held at 10 a.m. Monday, Oct. 31, 2011, at National Heights Baptist Church, Springfield, Mo., with Dr. Vaughn Weatherford officiating and graveside services were at 3:00 p.m. at the Howell Memorial Park Cemetery with Rev. Charles Allen officiating under the direction of the Carter Funeral Home, Inc., West Plains.
Clara was born on Saturday, Sept. 19, 1914, in Chavez County, NM, in a dirt-floored dugout to the late Cecil and Mary Sweatt who were homesteading a claim in the territory which had just become the state of New Mexico. She was the second of six children. Clara died Thursday, Oct. 27, 2011, in Springfield, Mo, while receiving physical therapy in order to go back to living on her own at home.
She was married on Jan. 24, 1932, in Lovington, NM, to Elmer Sears, who preceded her in death. They had two sons, Dwayne Sears, currently of Fort Stockton, Tx., and Ronnie Sears, late of Corsicana, Tx.
She was married on June 1, 1947, in Roswell, NM, to Floyd Wilcox, who preceded her in death. They had two sons, Byron Wilcox, currently of Duncan, OK, and Kent Wilcox, currently of Springfield, Mo.
She is survived by two siblings, Robert Sweatt, of Houston, Tx., and Reba Grandrud, of Phoenix, Az., three sons, Dwayne Sears, Byron Wilcox, and Kent Wilcox, and many grandchildren, great-grandchildren, and great-great-grandchildren.
In addition to being a wife, mother, and home-maker, she was active in church and community. She experienced a salvation experience as a teenager and was faithful to attend church wherever she lived. She was a member of the Lanton Baptist Church for many years, and later attended National Heights Baptist Church while living in Springfield.
The tradition of service to country was strong in Clara's life. As a young girl, she remembered hearing the news that the armistice which ended World War I had been signed. Her brother, Robert Sweatt, was shot down over France during World War II and the family had to wait for several months to receive word that the French underground had gotten him to England safely. Her husband, Floyd, served in the Philippines during World War II, and three of her sons served in the Army, Navy, and Air Force. Her grandsons and great grandsons have continued the distinguished tradition of service of which she was so proud.
While she did not serve in the military or hold political office, Clara was proud to serve in her community where she could. As soon as she was old enough, she exercised her newly guaranteed right to vote to help re-elect FDR to his second term, and continued voting in every local, state, and national election thereafter. In 75 years of elections, Clara voted in 18 presidential elections. She did more than just vote, though. She served on the election board where she lived and was faithful to make sure polls were open and people had a place to vote. She was recognized for her service with a certificate of appreciation in 1997.
Clara worked as a census-taker when she first came to the West Plains area and as the secretary of Glenwood Elementary School in the '60's and '70's. In later years, she ran her own income-tax preparation business, providing services for three generations of neighbors.
She enjoyed the out-of-doors, caring for animals, growing flowers and vegetables every year providing for herself and for others. In her spare time, she made quilts for family and friends. She never lost her life-long love of the written word; she enjoyed writing poetry and reading books. In her last weeks, her great joy was to finally find and re-read a copy of a book she read to her sister as a young girl.
As a child, she traveled by horse; as an adult, she flew in a few minutes over routes that she had spent weeks covering in a wagon. When young, she would walk 1/2 mile to check the mailbox; as an adult, she spoke to family overseas by phone using satellites in orbit, and saw pictures sent back from other planets. With all the change she experienced in her life, she still felt it important help her neighbors in their time of need. She touched many lives and leaves her mark in many hearts.
Memorial contributions may be made in her name to the Missouri Baptist Children's Home or to the charity of your preference.