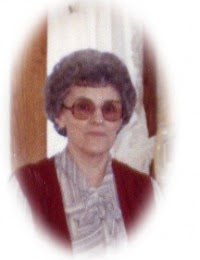 Bonnie Lee Agee was born the daughter of William J. Diles and Sarah M. Arnold Diles on June 1, 1928 at Thayer, Missouri and departed this life September 27, 2011 at Shady Oaks Health Care in Thayer, Missouri at the age of 83 years.
She was united in marriage May 3, 1947 in Paragould, Arkansas to James W. Agee, who preceded her in death January 16, 2007.
She is survived by one sister, Lurene McGhee of Thayer, Missouri; two sisters-in-law, Marjorie Diles and Roberta Morgan (James); one brother-in-law, Charles Agee (Betty); many nieces and nephews; several great nieces and nephews; several great-great nieces and nephews; several great-great-great nieces and nephews and one great-great-great-great niece, all of whom she loved and cherished as they did her. They were truly her children of the heart!
She was preceded in death by her parents, William J. and Sarah Diles; her husband, J.W. Agee; two sisters, Gladys Cotham and Vida Hall and two brothers, Orville and Dorris Diles.
Bonnie was a dedicated employee, working at McKesson Drug Company in Memphis, Tennessee for 19 years before moving to Thayer, where she worked at a local convenience store, Humphries Jewelry for 14 years and Cara Lee's Dress Shop in Mammoth Spring for 15 years.
Her passion was her family and the pleasure they brought into her life. Many treasured memories will be remembered as they shared in Bonnie's favorite pastime, eating good meals together.
She was a faithful member of the Thayer Church of Christ and will truly be missed by her family and many friends.
Funeral services will be Thursday, September 29 at 2:00 PM in the Carter Funeral Home Chapel at Thayer with Lee Moses officiating. The family will receive friends at the funeral home on Thursday from 1:00 PM until time of service. Burial will be in the Thayer Cemetery with services under the direction of Carter Funeral Home, Inc. in Thayer.
In lieu of flowers, the family requests donations in her memory, be made to the Paragould Children's Home and left at the funeral home.