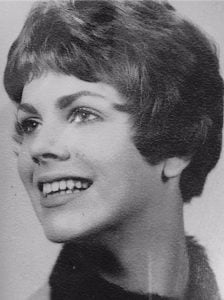 Barbara A. Hollingshad, 72, West Plains, Missouri died April 23, 2017 at her home in West Plains, Missouri, following a short illness.
She was born March 16, 1945, daughter of Joseph and Mary Lou (Cropper) Scoggin.
She was united in marriage on May 16, 1966 to Jerry Hollingshad in Miami, Oklahoma. Together they owned and operated Pop-A-Top and On-the-Run Pizza in Dora, Missouri for eleven years.
Barbara worked many jobs throughout her life, but her favorite role was being a homemaker and loving grandma. She enjoyed cooking, gardening, quilting, and spending time with her family.
She is survived by her husband Jerry of the family home; one son, Ray and his wife Sally of Springfield, Missouri; one daughter, Jo Beth and her husband Doug of O'Fallon, Missouri; five grandchildren, Zachary, Ethan, and Amelia Hollingshad, and Shelby and Ella Brown; one brother, Jeffery Scoggin, and five sisters, Mary Jo Anderson, Carolyn Scoggin, Marjorie Lemmon, Ruth Meadows and Eva Brixey; two aunts, Velva Kelley and Marty Uhlmann, and many cousins, nieces, nephews, and friends.
Barbara is preceded in death by her grandparents; parents, and sister Sally.
Memorial services will be held on Saturday, April 29, 2017 at 2:00 p.m. at Carter Funeral Home Chapel, West Plains.
Interment will be at Sweeton Pond Cemetery at a later date.
In lieu of flowers, please make donations to Riverways Hospice of OMC.