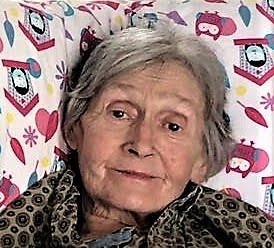 Avalee Fanning was born in New Liberty, Missouri, the daughter of Oscar Leroy Allmon and Bertha Reed Allmon on August 11, 1935 and departed this life on February 16, 2019 at her home in Alton, Missouri, at the age of 83 years.
She was united in marriage to Bob Fanning in 1955 and to this union, three children were born; Arvel, Becky and Kevin.
She is survived by her three children, Arvel Fanning, Becky Long, and Kevin Fanning and wife, Jackie, all of Alton, Missouri; six grandchildren, Tim Fanning, Shelley Fanning, Flora Lee Moore, Mark Moore, Michael Moore and Lance Fanning; one brother, Elven Allmon of St. Louis, Missouri; one sister, Leona Brown of West Plains, Missouri; several great grandchildren; many nieces and nephews; other relatives; and countless friends.
She was preceded in death by her parents, Oscar and Bertha Allmon; eight sisters, her twin sister, Annalee White, Flodie Parrott, Bonnie Simpson, Selma Brown, Sybel Buncel, Freeda Thompson, Inez Brown and Jetta Tolar; and two grandchildren, Matthew Moore and Anthony Bond, Jr.
Avalee enjoyed spending her time outdoors. She loved time-spent fishing and hunting. She also took pleasure in playing pool against anyone who dared to take her on.
Avalee will be remembered as a loving and caring mother, daughter and sister, and a friend to all. She will truly be missed by all that knew her.
Graveside services will be held on Thursday, February 21, 2019 at 2:00 PM at the Hickory Grove Cemetery in Alton, Missouri with Brother Bob Taylor officiating.
Family will receive friends on Wednesday, February 20, 2019 from 6:00 – 8:00 PM at the Carter Funeral Home Chapel in Thayer, Missouri.
Arrangements are under the direction of Carter Funeral Home, Inc. in Thayer, Missouri.